אופן אייר קונדישן | תחרות לרהיט עירוני באולימפיאדת אתונה, יוון | 2004
הפרויקט תוכנן במסגרת תחרות שיזמה עיריית אתונה במהלך אולימפיאדת 2004 וזכה להיות מוצג בעיר במהלך קיץ זה.
הפרויקט תוכנן בשיתוף לוט אדריכלים.
---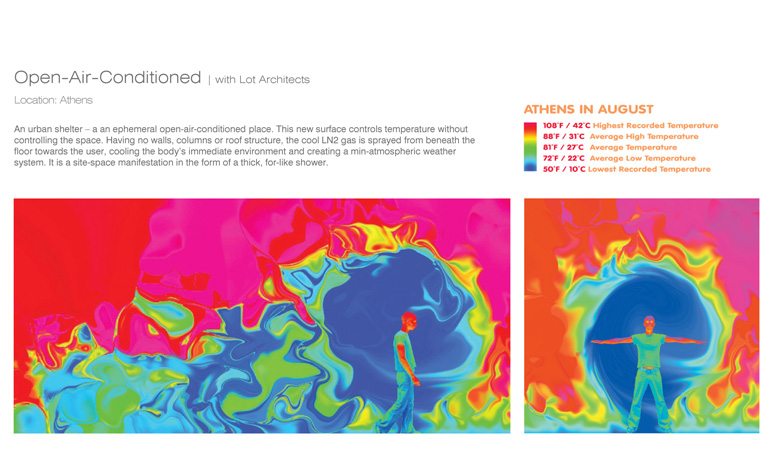 In Athens of mid-August, we propose an urban shelter – a brief, cold moment in a hot city – an ephemeral open air-conditioned place. This new surface controls temperature without controlling the space. Having no walls, columns or roof structure, the cool LN2 gas is sprayed from beneath the floor towards the user, cooling the body's immediate environment and creating a mini-atmospheric weather system. It is a site-space manifestation in the form of a thick, for-like shower. The alternating gaseous forms make of the grid a free plan that changes with the path chosen by each user or users. Spaces may be interwoven, scattering and dissolving, or slowly vanishing corridors, always from-follows-user. The cloud may reach 3m in height and 1-2m in width, causing a major climatic effect in its vicinity, and lasting longer the higher the temperature and humidity.
Motion sensors located underneath the floor-paneling trigger each spray of gas. The structure's ease of assembly, based on a ready made product for LN2 dispersion and an industrial, modular paneling system that can be mounted in 4 to 8 hours, makes it mobile and relatively inexpensive. Assembly is possible almost anywhere using telescoping legs that can be mounted on uneven topography in modules of 120x60cm. This system may be implanted in a variety of urban situations be they squares, sidewalks, boulevards, etc. The minimal surface and material create an ever-changing field: on architectural reflection of movement, density, and climate.
 Structural System
The infrastructure is made of steel telescoping pegs, adjusted with a pull of a lever within seconds. The square profile is fitted into a welded, prefabricated frame element that connects all the pegs, piping system and steel perforated surface together. The modules are 60×120 centimeters, for ease of mounting and demounting as well as storage capabilities within an overseas 30 cubic meter container. The use of the system is flexible enough to allow small scale, sidewalk type penetration, as well as large, city square type penetrations. The single module is connected to the rest via steel rail spacers that hold everything together in place.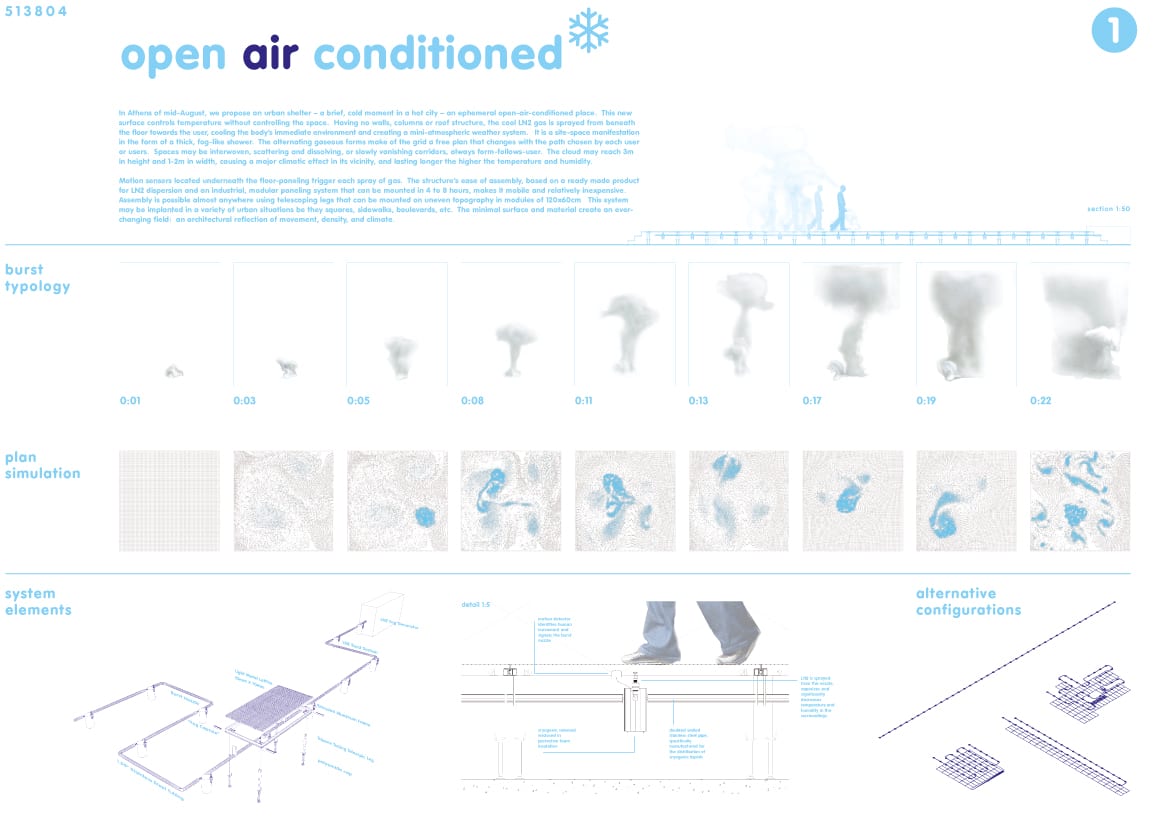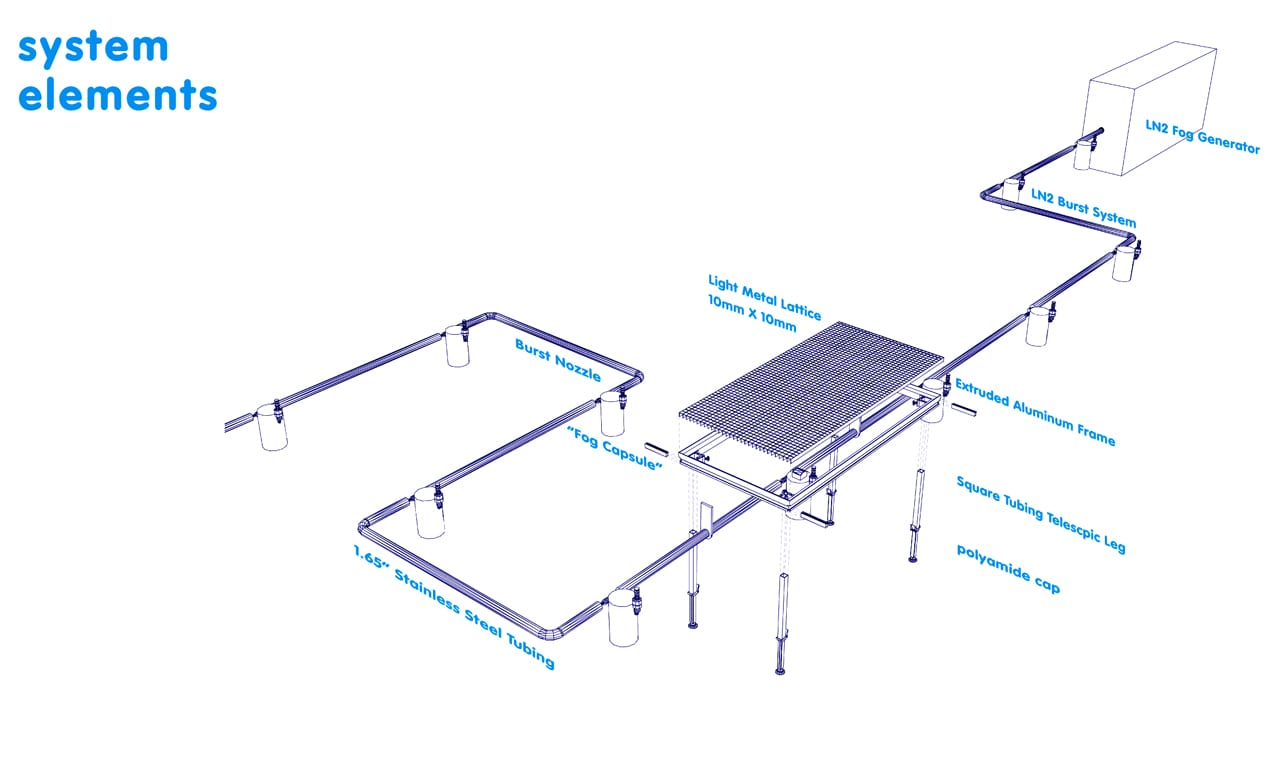 Mobility
Mounting and de-mounting takes between seven hours to a day, and may vary according to manpower. No special tools are needed for infrastructure assembly. The volume of the structure once demounted and ready for shipment is, as mentioned before, small enough to fit in an overseas container.
[divider scroll_text=""]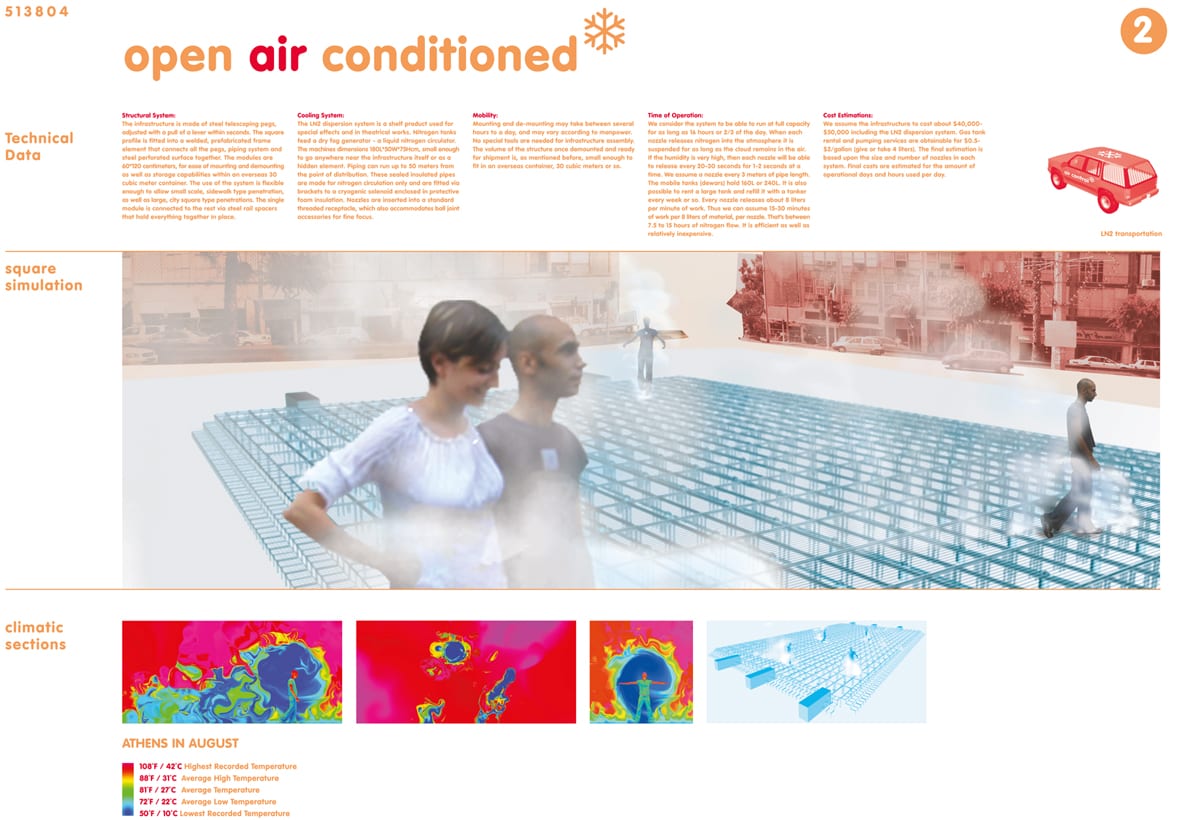 מי אנחנו ומה אנו עושים?  אנו משרד אדריכלים המתמחה בתכנון סביבות עבודה ועיצוב משרדים. אנו נותנים שירות  לחברות וארגונים גדולים מהמוכרים והמובילים במשק. כמו כן אנו עוסקים בתכנון משרדים גם עבור עסקים פרטיים ובעלי מקצועות חופשיים. אנו ממוקמים בתל אביב ומתכננים פרויקטים בכל ארץ וברחבי העולם משנת 2000. נשמח לעמוד גם לרשותכם, חגי נגר אדריכלים.